Middle Eastern Beauty at Mara Hoffman - NYFW Fall 2011
field_bb_editor['und'][0]['nid'])) { $editor = node_load($node->field_bb_editor['und'][0]['nid']); } ?>
nid)): ?>By title, "editor/{$editor->nid}/articles") ?> / created, 'custom', 'F j, Y') ?>
The beauty vibe backstage at Mara Hoffman was all about Middle Eastern influences. From the thickly lined eyes, bronzed skin and the turbans, you got the feeling of a desert goddess - not necessarily Cleopatra, but a more modern and urban version.
Makeup: Lotti for Make Up For Ever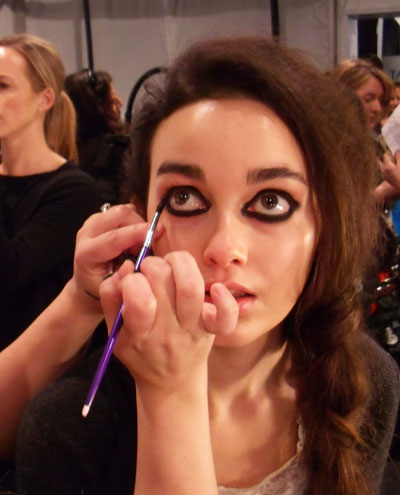 "The inspiration is a desert woman, Middle Eastern," said Make Up For Ever makeup artist Lotti. "There's sun-kissed skin and black kohl around the eyes - a very dark sultry eye." She used black Aqua Cream around the whole eye and on the inside as well. She finished with heavy coats of Smoky Lash Mascara for an emphasized look to complement the thick liner. To keep the brows full and bushy, Lotti used brow corrector and brushed the brows in various directions.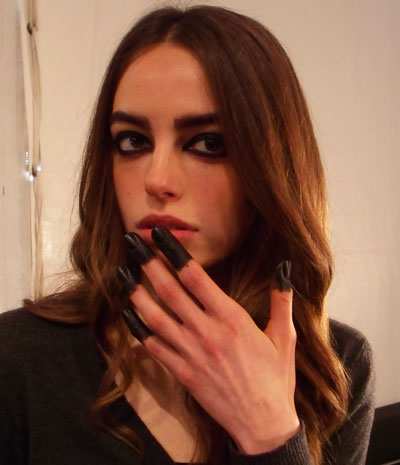 Lotti also used body paint on the fingertips to give them an ink-stained look. Not sure how that ties in with the "desert woman," but definitely a new look that goes beyond manicured hands.
Hair: Martin-Christopher Harper for Cutler Salon
Texture was the key ingredient to the various hair looks, which included side braids, back braids and loose waves. The look was inspired by a beach vacation and that salty textured hair you get from the ocean. Lead stylist Martin-Christopher for Cutler Salon used Redken Guts 10 and Redken Forceful 23 to create the texture and to actually seal the braids. "There's no elastic," Martin said. "What happens is the texture in your hair will just hold - that's what's so organic about it."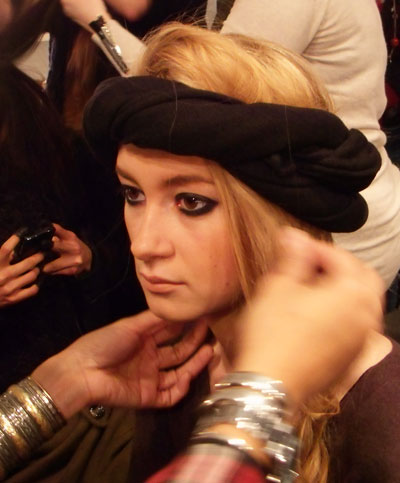 Some of the models also wore turbans, which were formed from long and wide pieces of fabric that were folded length-wise and then twisted. "The technique is all about the knot and the very beginning of wrapping and creating the turban so it's not so bulky," Martin explained. After you create the initial knot, you wrap around the back of the head, and then it's about getting the right amount of tension so you can tuck the fabric and hold it in place.
Keywords