NSFW: Ren Skincare Turns 11 with a Short Film Featuring Lots of Skin
field_bb_editor['und'][0]['nid'])) { $editor = node_load($node->field_bb_editor['und'][0]['nid']); } ?>
nid)): ?>By title, "editor/{$editor->nid}/articles") ?> / created, 'custom', 'F j, Y') ?>
Ren Clean Skincare is celebrating a decade + 1 this year with a "very European" film, as founder Rob Calcraft described it. And if you're wondering if that means nudity? Yes. Yes, it does.
In case you're not in the proper setting to view this NSFW video, let's suffice it to say, we learn what "Ren" means - clean in Swedish. And that's the essence of the film and the Ren brand as whole. Rob said they wanted to express that radiant feeling you have when your skin is healthy and glowing with this film, and that's the feeling he wants Ren users to have.
Ren does not make claims of being organic, nor do they want to be under a "natural skincare" umbrella either. Instead, they focus on creating quality products that embrace skincare science, while formulating without common ingredients known to irritate the skin (like alcohols, pthlatels, mineral oil, parabens and sulfates).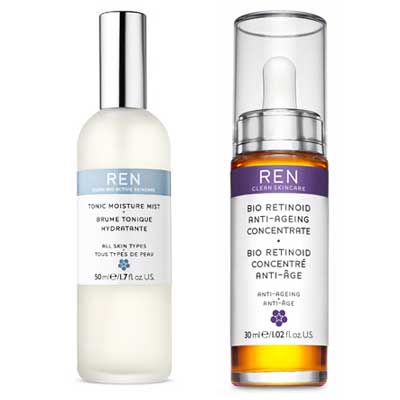 Launching now are two new Ren products. The Tonic Moisture Mist ($28), which is a hydrating mist formulated with hyaluronic acid sourced from corn, ginseng and fig extract refreshes the skin and has a light rose scent. The Bio Retinoid Anti-Aging Concentrate ($60) is available now and launches at Sephora stores in April. It's made with 100 percent naturally-sourced retinol for a non-irritating effect, unlike synthetic retinols.
Eleven years of Ren is pretty exciting, especially when you're fans of the brand like we are. Whether the 11th anniversary film starts a discussion on skincare or something else, we're not entirely sure. But having flawless skin does make you want to show it off!
-Kaitlyn, Senior Beauty Editor
Plus: Models tell us their skincare secrets!