Roberto Cavalli Took Fragrance Feedback from Facebook, Hints at a Makeup Line
field_bb_editor['und'][0]['nid'])) { $editor = node_load($node->field_bb_editor['und'][0]['nid']); } ?>
nid)): ?>By title, "editor/{$editor->nid}/articles") ?> / created, 'custom', 'F j, Y') ?>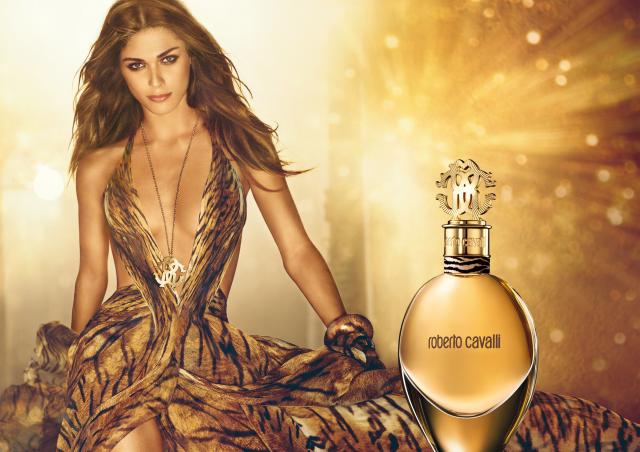 If Roberto Cavalli has had a presence at perfume counters for the past decade, why is the designer calling his just-launched
Roberto Cavalli Eau de Parfum
his "first" fragrance? Simple - it's the only one he's liked enough so far to call it his signature. This time around, he teamed up with Louise Turner of Givaudan to get the scent just right. Louise, inspired by the "colorful and provocative universe of Cavalli," focused on three key notes to interpret her inspiration. The amber-floral fragrance was blended with notes of orange flower ("a feminine scent with a certain opulence; very Cavalli," said Louise), "sensual and rich" tonka bean, and "spicy, yet fresh" pink peppercorn. I got a chance to speak with Roberto about the notes behind the scent, his inspiration and what's to come in the Cavalli world. Read on!
How does Roberto Cavalli Parfum compare to your previous fragrances?
"This is my first perfume. This one, for me, is a perfume. It's my fragrance. Before, I was not satisfied with my perfumes. Finally, Coty knew how to interpret my wish, my fragrance. Because, believe me, this fragrance is fantastic, and not because it's mine."
What did you want the impact of the perfume to be?
"I made sure this perfume was sexy, special, glamorous - like my fashion. That's exactly what I wanted."
How did you turn your wishes into this fragrance?
"I paid attention to the small details with the packaging because men want to make a presence for their wives and girlfriends. I also spoke with my friends from blogs, Twitter, Facebook - I have many people who follow me. I asked everybody's opinion. I am curious."
Tell me about the notes, did you know what you wanted from the beginning?
"I didn't know what I wanted at first. I had to taste it; I had to feel it so it wasn't too sweet or too strong. I believe a perfume should be sweet, but not too much, should be new, but not too much. Because if it's too new, then people are afraid. I just knew that the people would like it."
How many notes did you test out?
"Oh, like 25! But the last few were the winners."
How do you think this fragrance relates to the Cavalli woman?
"I judge my woman by her femininity because I don't worry about beauty - beauty is so superficial today. The beauty comes and goes. My perfume is for one woman - a woman with personality. Someone that loves to conquer the world."
What's next for Roberto Cavalli?
"My dream is to start the new makeup - to change the revolution of makeup. You will see, I promise. Because everything is too much. There is no fantasy in the makeup. Makeup is colors, my fashion is colors. I changed the fashion lifestyle and now I want to change the lifestyle in makeup."
Keywords